15th Annual All-California Labor Economics Conference
Date: September 19-20, 2022
Conference Link: https://aclec.ucr.edu/
Conference Program: https://aclec.ucr.edu/program/
---
Riverside Economic Theory Workshop
January 7-8, 2020
Conference link | Conference program
---
Southern California Winter Econometrics Day
University of California, Riverside
Saturday, February 2, 2019
---
Pacific Conference for Development Economics (PacDev 2017)
PacDev will be held on Saturday, March 11, 2017 at the University of California, Riverside. PacDev is one of a handful of major annual conferences dedicated to international development. The event brings together graduate students, faculty and practitioners to present and discuss research that enhances our understanding of economic development, advances theoretical and empirical methods, and seeks to improve development interventions and policy.
Conference link with papers | Conference program
---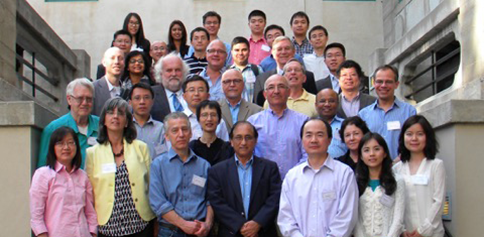 Conference in Honor of Aman Ullah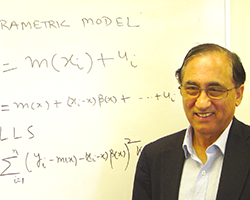 We are very pleased to organize a conference in honor of our colleague Aman Ullah to celebrate his long and productive academic career. The conference will take place at the Riverside Mission Inn from March 13-15, 2015. Distinguished econometricians, who are Aman's friends, coauthors, and students, have been invited to the conference. The senior co-editors of Advances in Econometrics (AIE) have agreed to publish a festschrift volume in honor of Aman Ullah. The AIE volume will focus on the following topics:
nonparametric/semiparametric econometrics
finite sample econometrics
shrinkage methods
information/entropy econometrics
model specification testing
robust inference
panel/spatial models
Selected papers will appear in Advances in Econometrics: Essays in Honor of Aman Ullah. The review process for the volume (Volume 36) will be completed by October 1, 2015 and the volume will appear in print by January 15, 2016. The editors of the volume are Gloria González-Rivera (UCR), R. Carter Hill (LSU), and Tae-Hwy Lee (UCR).
About Aman Ullah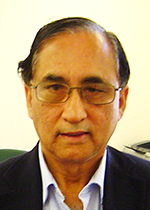 Aman Ullah is Distinguished Professor of Economics at the University of California, Riverside. His many and influential contributions have shaped the field of econometrics over the last four decades. Professor Ullah has pioneered the development of non-parametric and semi-parametric methods and their applications in econometrics. His book Nonparametric Econometrics, co-authored with Adrian Pagan, has become a standard textbook for graduate courses and a classical resource for researchers, and his book Finite Sample Econometrics is the first to provide a comprehensive and unified framework for the econometric analysis of small samples. With more than 150 published articles, Professor Ullah has advanced our discipline in many directions, e.g. panel and spatial models, information econometrics, shrinkage methods, etc. He is also an inspiring teacher in the classroom and a beloved mentor. He has supervised and influenced more than 120 doctoral students who are now promising scholars in academic institutions all over the world as well as in industry and international organizations. Professor Ullah has been a model of scholarship for his younger colleagues. We are delighted to celebrate and honor Professor Ullah's extraordinary career and many achievements.
Professor Aman Ullah was born in Varanasi, India. He received his B.A. in Mathematics, Statistics, Economics and M.A. in Mathematical Statistics from Lucknow University and his Ph.D. in Economics from the Delhi School of Economics, Delhi University.  Before coming to UC-Riverside, Professor Ullah held appointments at Southern Methodist University, Dallas, and University of Western Ontario, Canada. He has also visited many universities and institutes, including, ANU, Monash, NSW, Canterbury, Cambridge, Amsterdam, Goethe, XMU, PKU, SMU, Bilkent, McGill, Stanford, World Bank, Tinbergen Institute, FGV Brazil, CIDE Italy, CORE Belgium, among others. His research interests are in Econometric Theory, Nonparametric Econometrics, Finite Sample Econometrics, Cross Sectional and Time Series Econometrics, and Panel and Spatial Econometrics. He has served or is currently in the editorial board of Econometric Reviews, Journal of Nonparametric Statistics, Empirical Economics, Journal of Quantitative Economics, Macroeconomics and Finance in Emerging Market Economies, among others. He also serves as an editor for the series in Statistics and Econometrics published by Chapman Hall and Taylor-Francis. He is an elected Fellow of Journal of Econometrics, American Association for the Advancement of Science (AAAS), Royal Statistical Society, and National Academy of Sciences (India), and honored as an Associate Fellow of CIREQ, Montreal, Info-Metrics Institute of American University Washington DC, and Senior Fellow of the Rimini Centre for Economic Analysis, Italy. For his dedication to graduate education he was honored with the UC-Riverside Dissertation Advising/Mentoring Award.
Conference Sponsors (in alphabetical order):




And the following University of California, Riverside departments:






Conference Organizers:
Gloria González-Rivera, UCR
R. Carter Hill, Louisiana State University
Tae-Hwy Lee, UCR